How Digital Marketing can Boost your Career Prospects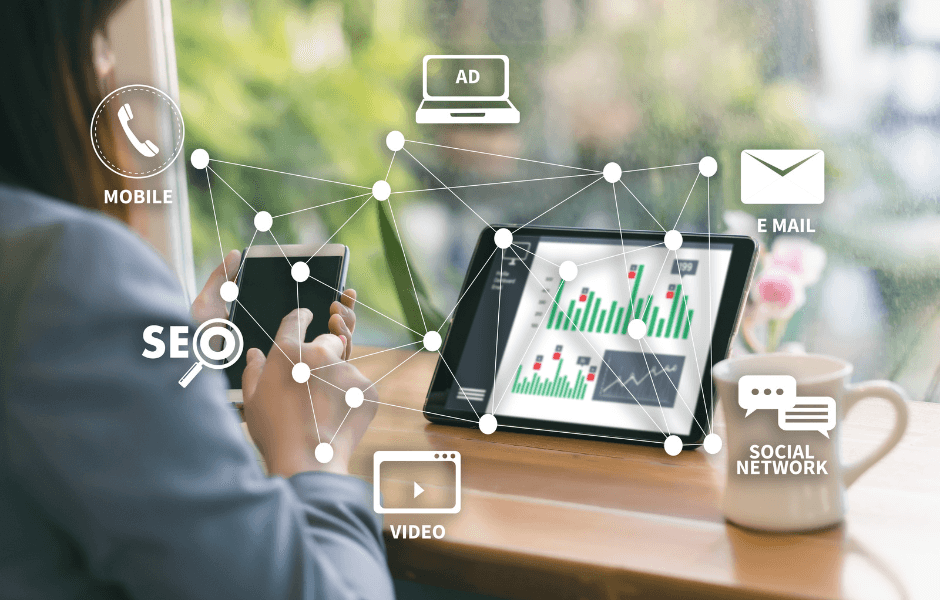 Introduction: The Development of Digital Marketing
In today's business environment, digital marketing has become increasingly important. Businesses are discovering the enormous potential of contacting and interacting with their target audiences online as a result of the growing adoption of technology and the internet. A variety of tactics and platforms are included in digital marketing, including social media, search engine optimization (SEO), content marketing, email marketing, and more. It gives companies the chance to reach out to customers in a targeted, affordable manner, increasing brand recognition, customer loyalty, and eventually business success. We'll look at how digital marketing can greatly improve your job prospects and create exciting new opportunities in the rapidly changing digital world in this blog.
Understanding Digital Marketing
Digital marketing refers to the promotion of products, services, or brands through digital channels and strategies.
Online advertising, search engine optimization (SEO), social media marketing, content marketing, email marketing, and analytics are essential components of digital marketing.
Digital marketing channels include search engines, social media networks, websites, blogs, email platforms, and mobile applications.
Search engine optimization (SEO) focuses on enhancing the visibility and rankings of a website on search engine results pages.
Social media marketing entails promoting brands and interacting with consumers on social media platforms.
Content marketing is centred on the creation and distribution of valuable and pertinent content to attract and retain a specific audience.
Email marketing involves sending targeted messages and promotions directly to the email inboxes of individuals.
Other digital marketing channels include mobile marketing, display advertising, video marketing, and influencer marketing.
Each channel serves a distinct function and can be customised to reach specific audiences, achieve marketing objectives, and generate desired results.
Benefits of Digital Marketing for Career Advancement
Career Advancement
There are several advantages to digital marketing for career development, enabling professionals to broaden their skill set and take on more difficult positions.
Growing need
As organisations become more aware of the value of online marketing methods, there is an increasing need for digital marketing abilities across a variety of industries.
Higher Pay
Compared to traditional marketing roles, digital marketing experts frequently command higher wages due to the growing demand and specific skills needed.
Job Opportunities
The field of digital marketing offers a wide variety of employment alternatives, from social media managers to SEO specialists, providing people with a variety of career pathways and opportunities for advancement.
Creating a Solid Foundation: Key Digital Marketing Competencies
A number of fundamental skills are necessary to thrive in digital marketing. Among these abilities are: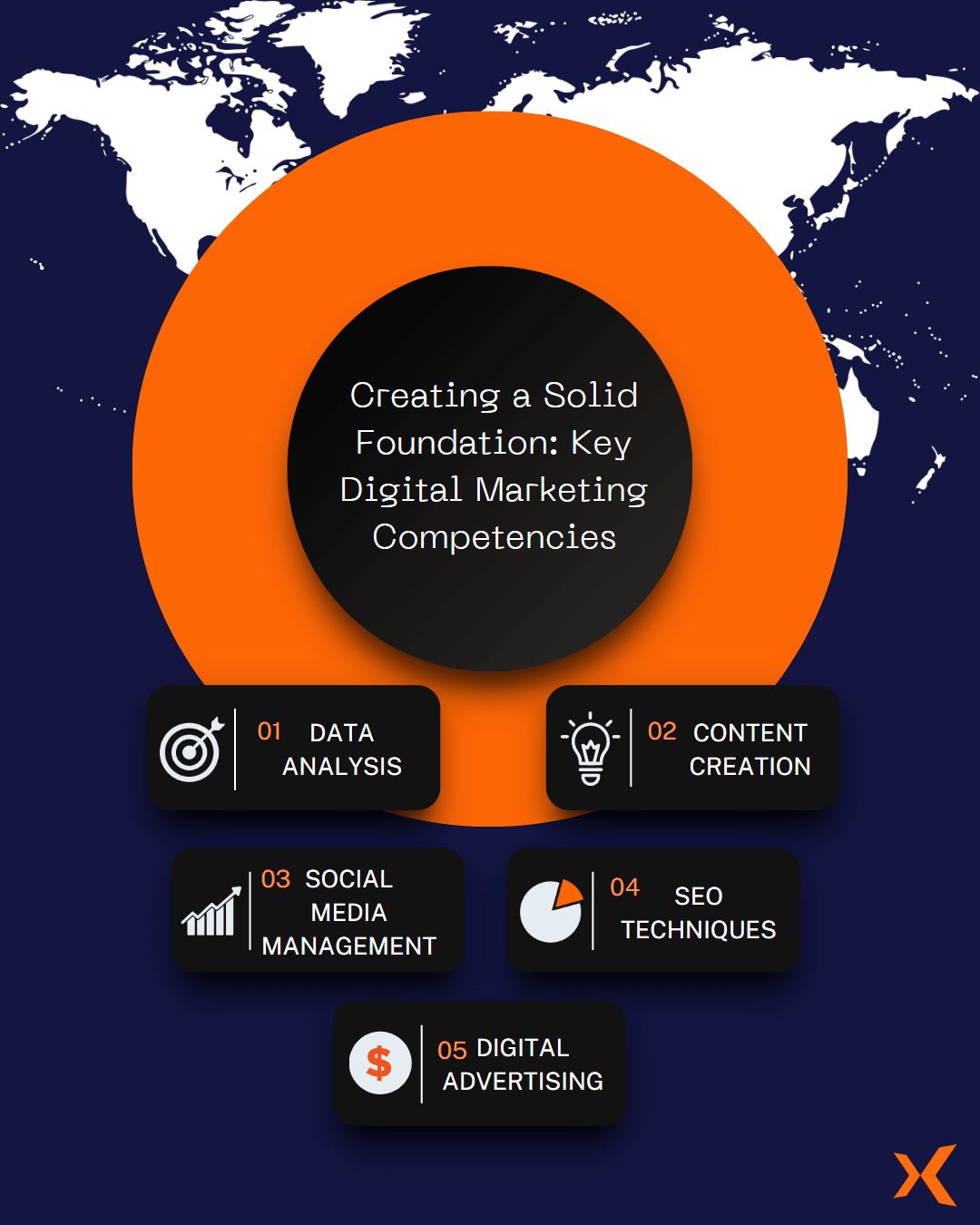 1. Data analysis
Understanding customer behaviour, gauging the success of marketing campaigns, and making data-driven decisions all depend on the ability to analyse and interpret data.
2. Content Creation
Producing interesting and captivating content is essential for grabbing audience attention and effectively communicating brand messages.
3. Social Media Management
Establishing a strong online presence and generating engagement require expertise in managing social media platforms, creating social media strategies, and interacting with the audience.
4. SEO Techniques
Knowledge of SEO strategies aids in enhancing website visibility, boosting organic traffic, and raising search engine rankings.
5. Digital Advertising
Knowing how to use platforms for digital advertising, such as Google Ads and social media ads, allows for accurate audience targeting and improved campaign results.
Individuals can strengthen their foundation in digital marketing and improve their professional prospects by honing these abilities.
Creating a Career Path in Digital Marketing
There are many different career pathways available in digital marketing. There are positions like that of a content marketer, social media manager, SEO specialist, and more. While SEO specialists concentrate on improving website exposure on search engines, digital marketing specialists manage entire marketing tactics. While content marketers produce interesting content, social media managers handle brand promotion on social media networks. Think about your unique interests and skills while selecting a specialisation. Find a field that shares your passion, whether it be social media, analytics, or creative content. This will help you succeed in your chosen professional path in digital marketing.
Gaining expertise and knowledge in digital marketing
There are numerous learning options accessible to help you improve your digital marketing skills. To acquire in-depth information, online courses, certifications, and workshops are advised. These publications offer insightful information on digital marketing best practices and techniques. Furthermore, gaining real-world experience through internships, independent work, or personal branding campaigns is essential. It enables you to put your academic knowledge to use in practical situations while developing your abilities and a portfolio. You can improve your job chances and build a solid foundation in digital marketing by fusing academic study with hands-on training.
Putting Your Digital Marketing Skills on Display: Create an Outstanding Portfolio
A solid digital marketing portfolio is really important. It gives prospective employers or clients a concrete example of your abilities, successes, and skills. Focus on presenting your most important projects and campaigns that showcase your prowess in disciplines like SEO, content production, social media management, and digital advertising if you want to develop a successful portfolio. In order to demonstrate the impact of your effort, use metrics and analytics. Make sure your portfolio is also user-friendly and pleasing to the eye. Your portfolio may be strengthened even further by adding case studies, recommendations, and certifications, making it a potent tool for showcasing your expertise in digital marketing and luring intriguing job chances.
Keeping Up: The Changing Face of Digital Marketing
Because digital marketing is continuously changing, it is important to keep learning new things.
Follow industry blogs, podcasts, and webinars to stay current on trends, tools, and strategies.
Interact with thought leaders and experts in the field to obtain knowledge and remain abreast of developments.
Participate in online forums and groups to exchange knowledge and take part in conversations.
Use online certifications and courses to update your knowledge and stay current.
Test out new tools and platforms to stay up to date on cutting-edge developments in science and engineering.
To adapt to the dynamic environment of digital marketing, maintain your curiosity and adopt a lifelong learning mindset.
Conclusion: Using Digital Marketing to Advance Your Career
We looked at how digital marketing can greatly improve your employment prospects in this blog. We talked about the expanding significance of digital marketing and its different elements, such as SEO, social media marketing, content marketing, and more, in today's corporate scene. We emphasised the benefits of digital marketing for career advancement, including the rise in demand for digital marketing expertise and the number of job prospects. It was stressed that selecting a specific field based on individual interests and strengths and laying a solid foundation in fundamental digital marketing skills were important.
We are also divided into learning about and gaining experience in digital marketing through a variety of learning options, including online courses, certificates, and hands-on learning. We talked about the need of developing an impressive portfolio that effectively communicates your abilities and accomplishments, as well as suggested initiatives and campaigns.
It was highlighted that networking and involvement in the sector were essential for career success in digital marketing. Gaining knowledge, collaborating with others, and receiving mentorship are all made possible via networking with professionals and subject matter experts, joining organisations, and attending conferences or seminars.
Finally, we emphasised the dynamic nature of digital marketing and the significance of keeping abreast of current techniques, tools, and trends. For ongoing education and career advancement, listening to podcasts and attending webinars were advised.
In conclusion, there is enormous potential for both personal and professional improvement with digital marketing. It is a dynamic industry with many different employment options. You can open up fascinating prospects and create the road for a prosperous career in the digital marketing sector by embracing digital marketing, continuing to study, and remaining up to date.